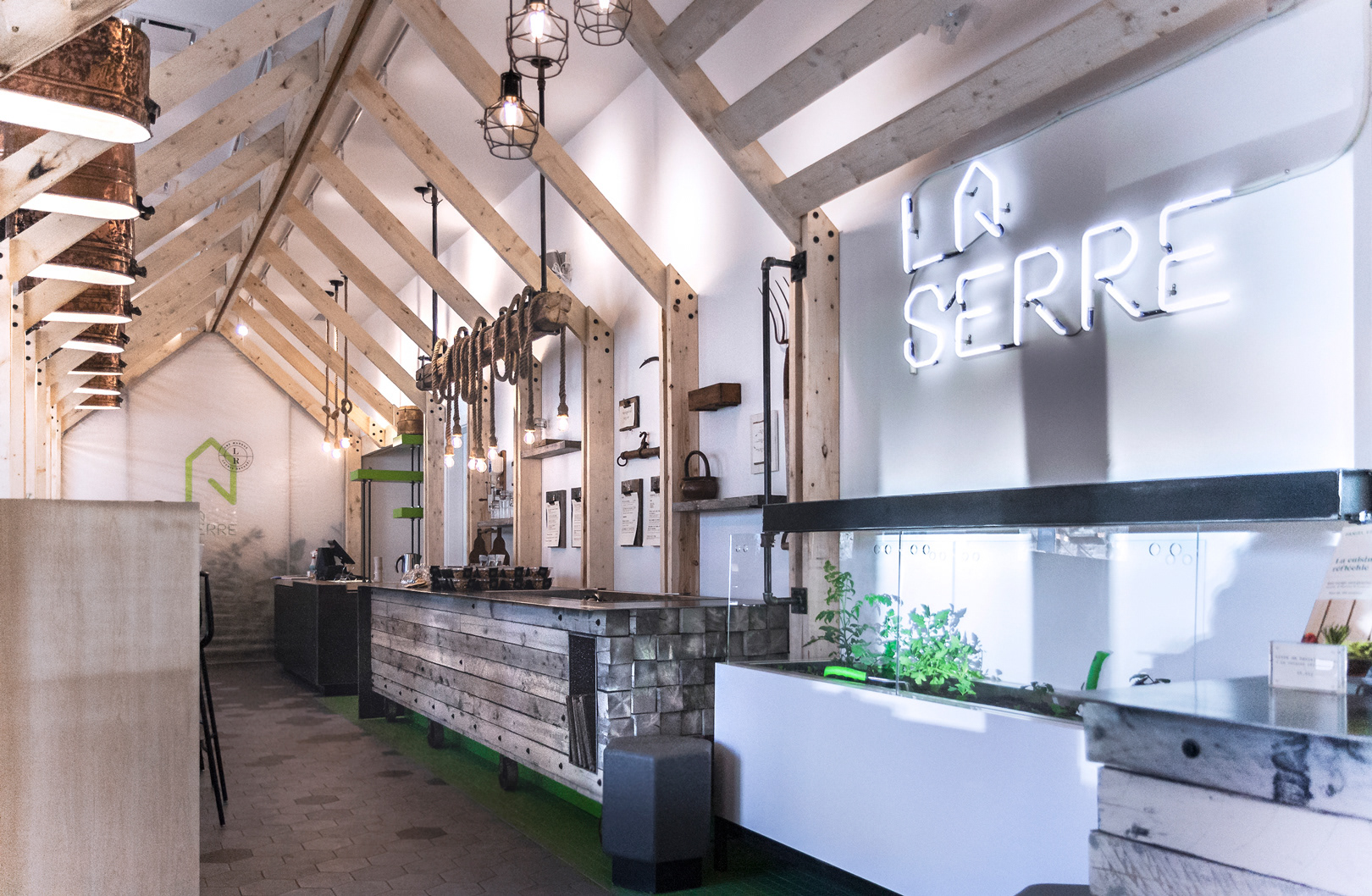 Décontracté, lumineux, au style 100% unique ! LA SERRE LR est un comptoir santé situé à Québec qui offre des plats cuisinés froids, des jus frais pressés, des cafés et des thés de qualité.

Nos réalisations  :
- Comptoirs en acier
- Balastre en acier avec système d'ajustement pour la petite serre où poussent fines herbes   et légumes
- Luminaires suspendus composés de bassines en cuivre antiques et poulies recyclées
- Poutres antiques suspendue avec système d'accrochage décoratif en acier
- Brouette/luminaire
- Pattes d'acier sous les comptoirs avec anciennes cordes marines 
- Tous les autres détails en acier
Design : Steve Girard Designer
Meubles et éléments structurels en bois = Aspec

-----------------------------------------------------------------

LA SERRE LR is a restaurant (health bar), located in Quebec City, offering cold dishes, freshly squeezed juices, quality coffees and teas.
Our work in this restaurant: 

- Steel countertops 
- Steel balastra with adjustment system for small greenhouse
- Pendant luminaire (light) composed of recycled antique copper basins and pulleys 
- Suspended antique beams with decorative steel fastening system 
- Wheelbarrow / luminaire (light) 
- Steel legs under counter with old marine ropes 
- All other steel details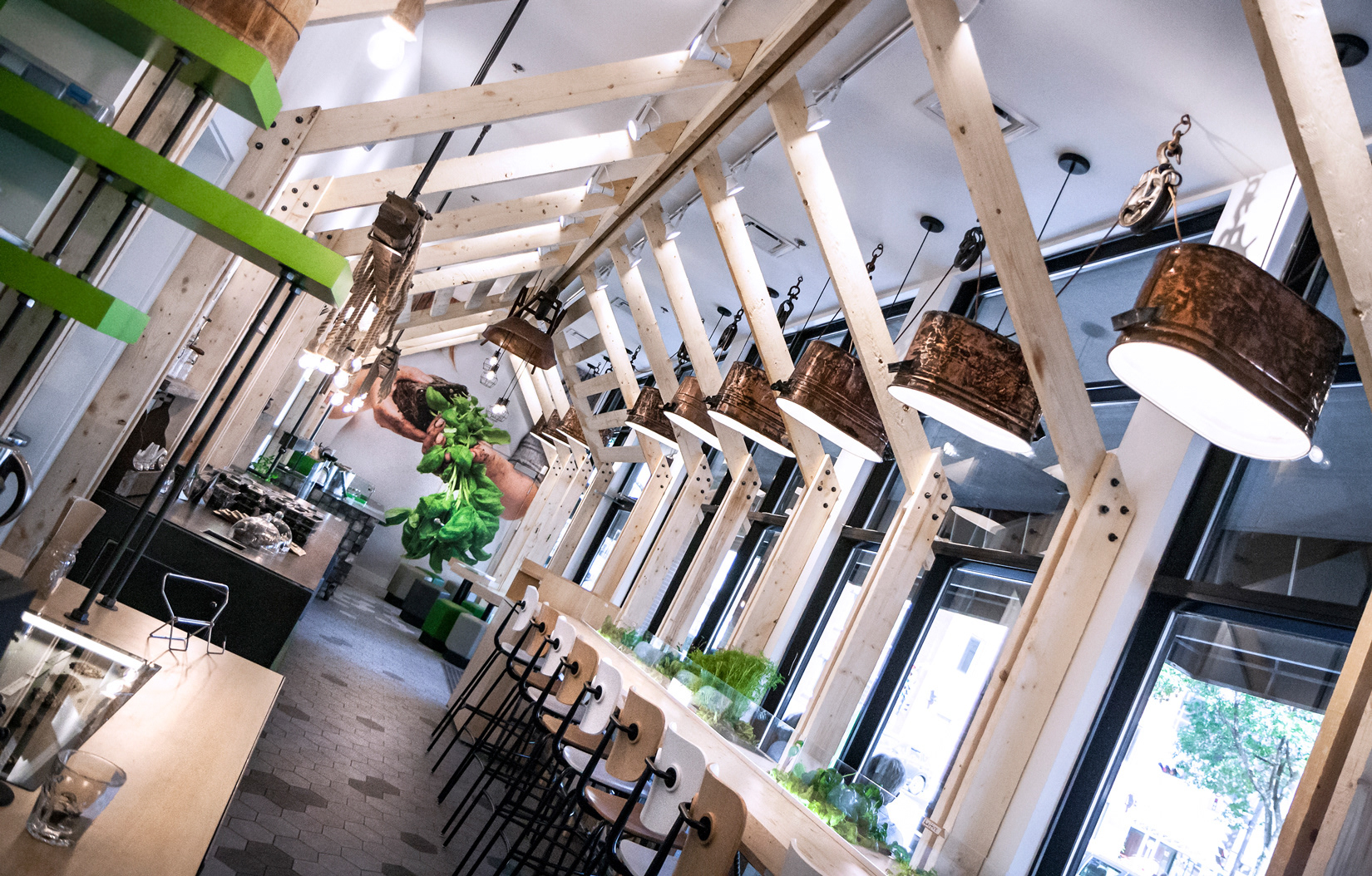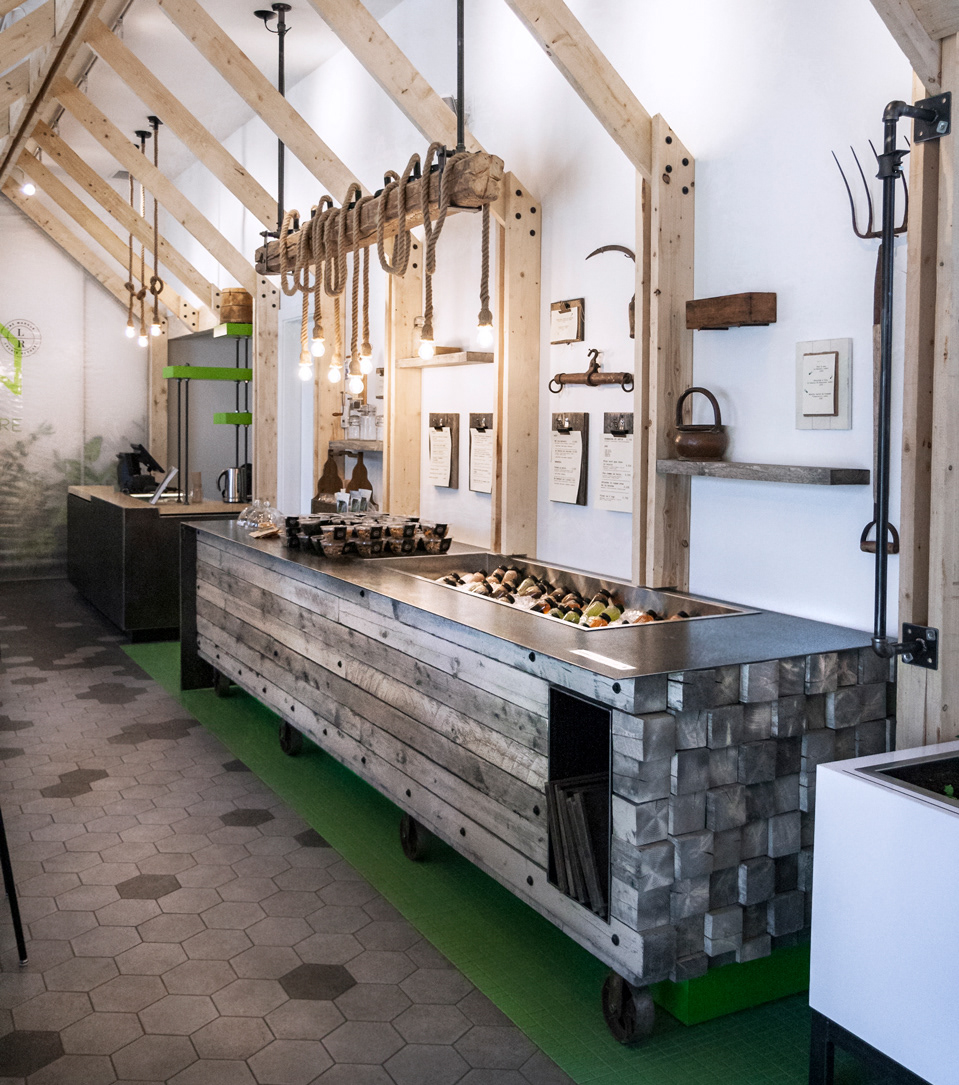 Un des comptoirs d'acier que nous avons fait, avec la huche pour le rangement et les roues antiquées (photos suivantes pour les détails). La composition de poutres antiques grises sous le comptoir est une réalisation de ASPEC.
----------------------------------
One of the steel countertops, with the hutch for storage and antique wheels (pictures below for details). The composition of gray antique beams (wood) is an achievement of ASPEC.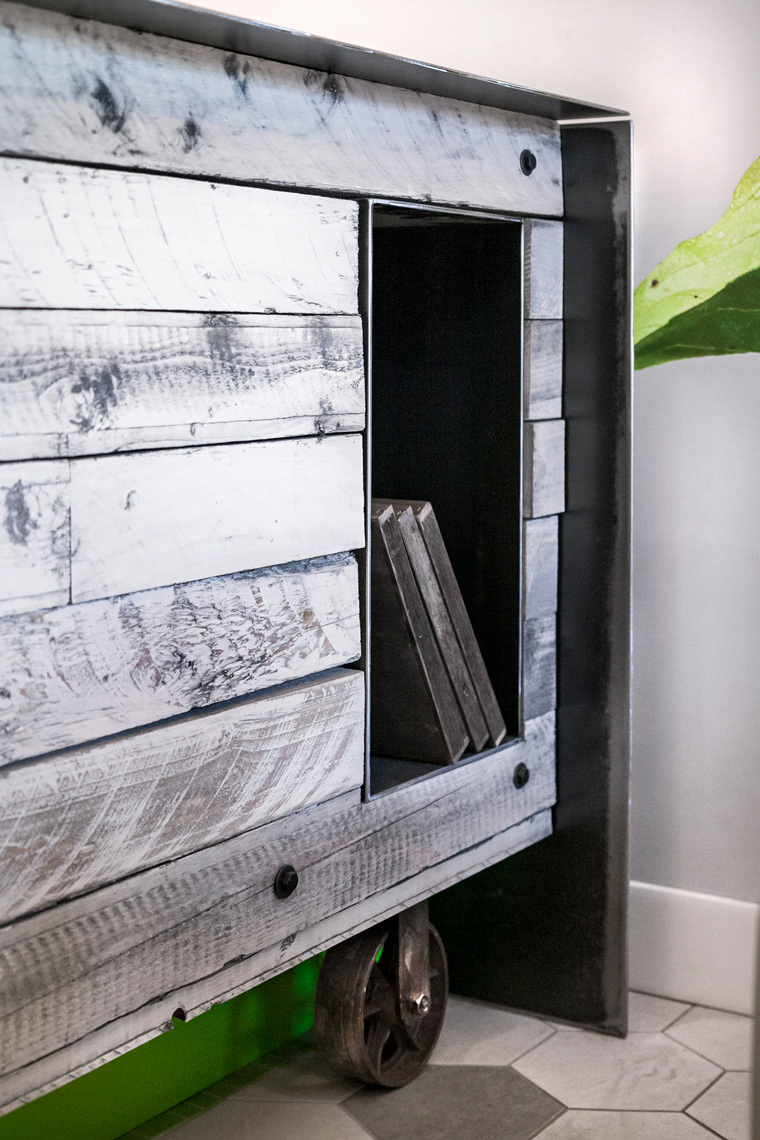 L'acier des comptoirs est fini usé, vernis satiné pour conserver l'aspect naturel de l'acier. Une huche en acier a aussi été intégrée dans le comptoir.
-----------------------------------------
The countertop steel is finished with satin varnished to retain the natural look of the steel.A steel hutch has also been integrated into the counter.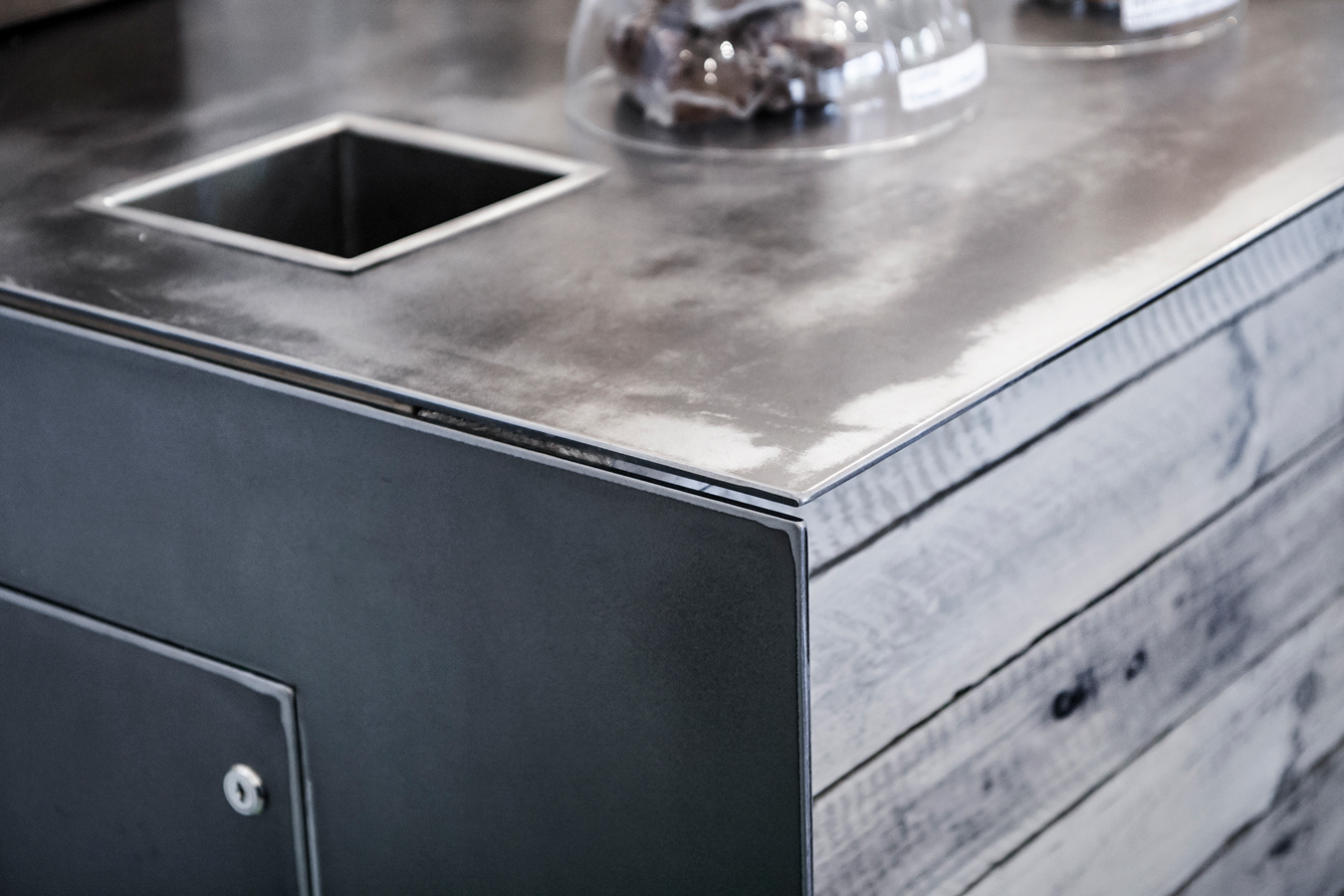 Nous avons fabriqué cette série de 12 luminaires composés de cuves en cuivre antiques restaurées, peintes blanches à l'intérieur pour plus de luminosité. Chaque luminaire est relié aux autres par des poulies antiques aussi restaurées. Vraiment superbe !
---------------------------------------------
We have made this series of 12 hanging light made of antique restored copper tanks, painted white inside for more luminosity. Each luminaire is connected to the others by restored antique pulleys. So nice !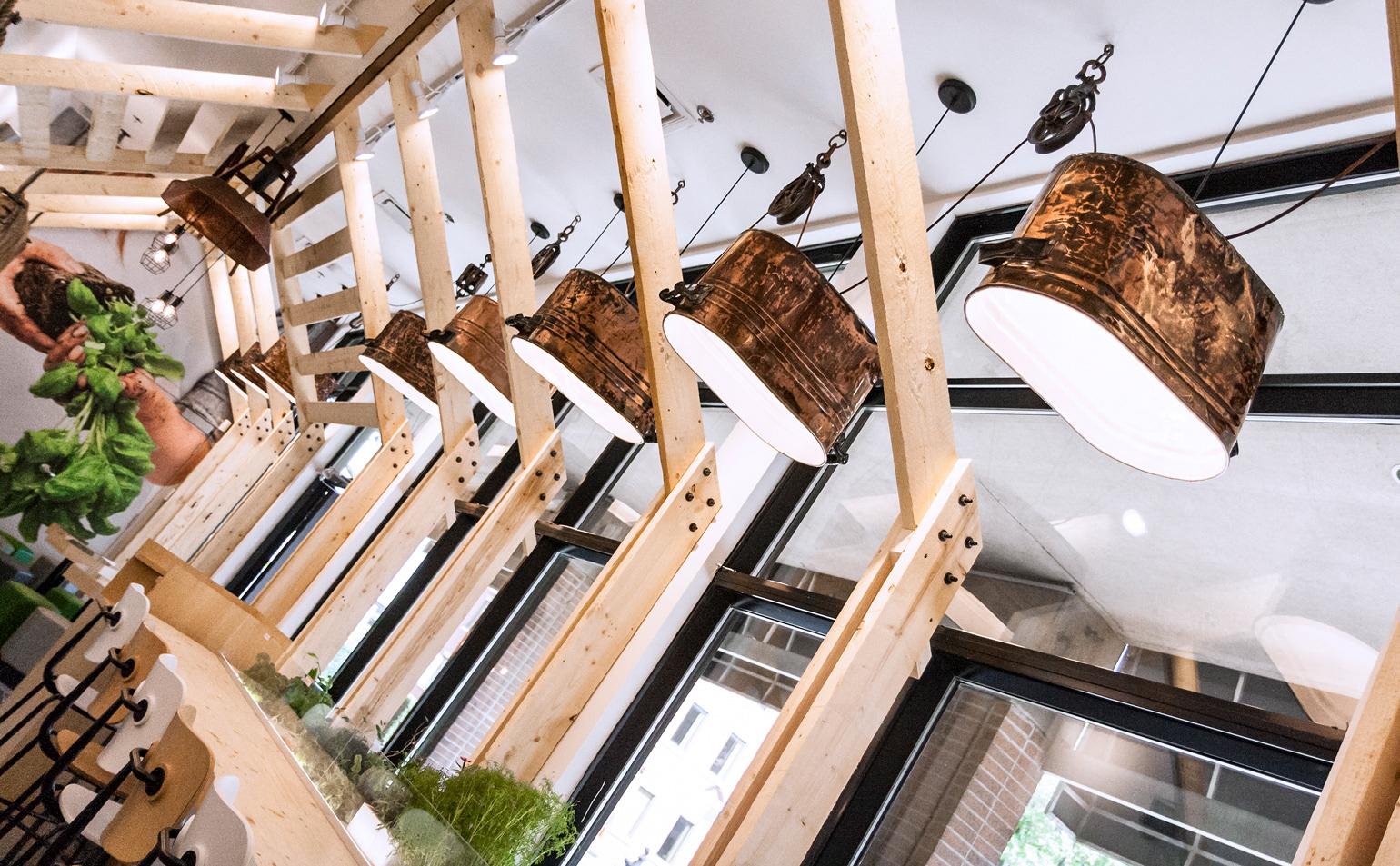 Détail d'un des luminaires composé d'une cuve en cuivre antique restaurée. Intérieur blanc, extérieur fini avec un vernis brillant qui confère un "wet look" original mettant la brillance du cuivre en valeur.
---------------------------------------
Detail of one of the hanging light consisting of a restored antique copper tank. White interior and exterior finished with a glossy varnish give an original "wet look".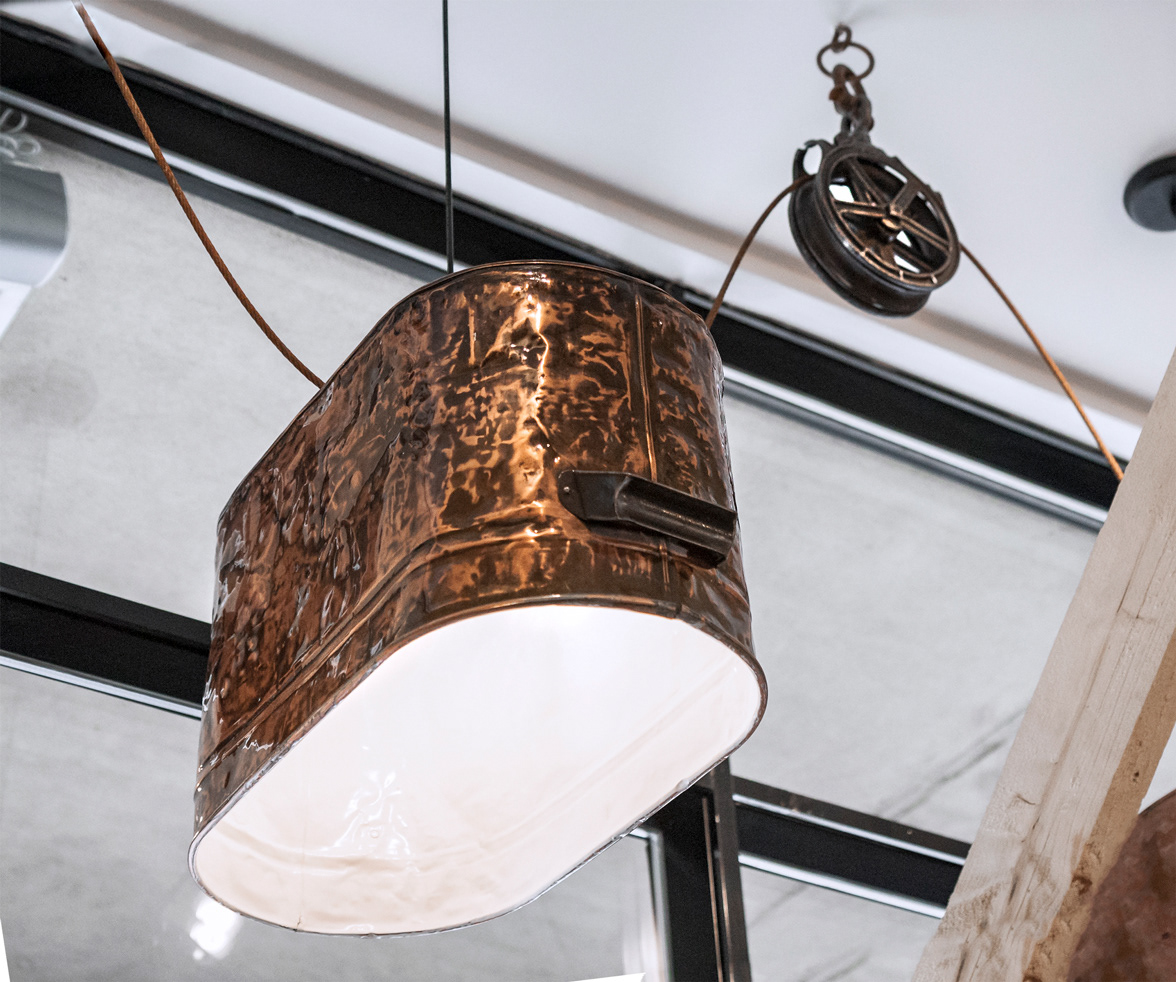 Ci-dessous: une cuve antique dans l'état original, avant sa restauration. Beaucoup de travail mais le résultat démontre l'intérêt de récupérer nos vieux objets. Incomparable à du neuf !
----------------------------------
Below: original state of the antique copper tank. Much work to obtain the final result but it show the interest of recovering our old objects. Incomparable to new ones !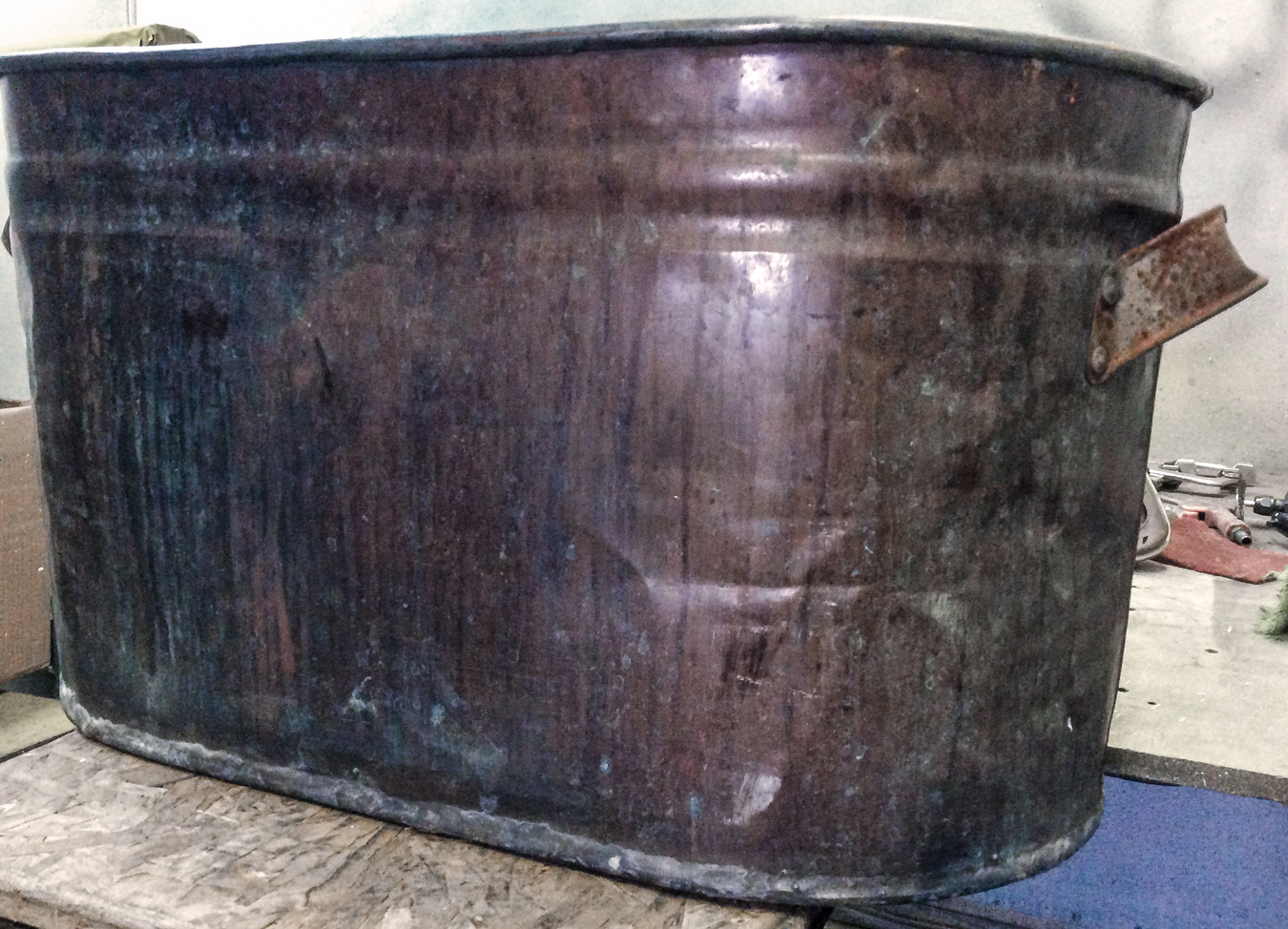 Ci-dessous : nous avons fabriqué 2 structures pour porter les lumières, composées d'anciennes poutres de bois travaillées pour obtenir un aspect propre tout en conservant les tons du vieux bois. Des armatures d'acier au style usé enserrent les extrémités pour fixer le tout au plafond.
---------------------------------------------
Below: we made 2 structures to carry the lights, composed of old wooden beams worked to obtain a clean appearance while retaining the tones of the old wood. Steel frames grip the ends to secure the ceiling.
Vu des armatures d'acier fabriquées pour enserrer les poutres de bois et permettre leur accrochage au plafond.
----------------------------------
Steel support grip the wooden beams and allow them to hang from the ceiling.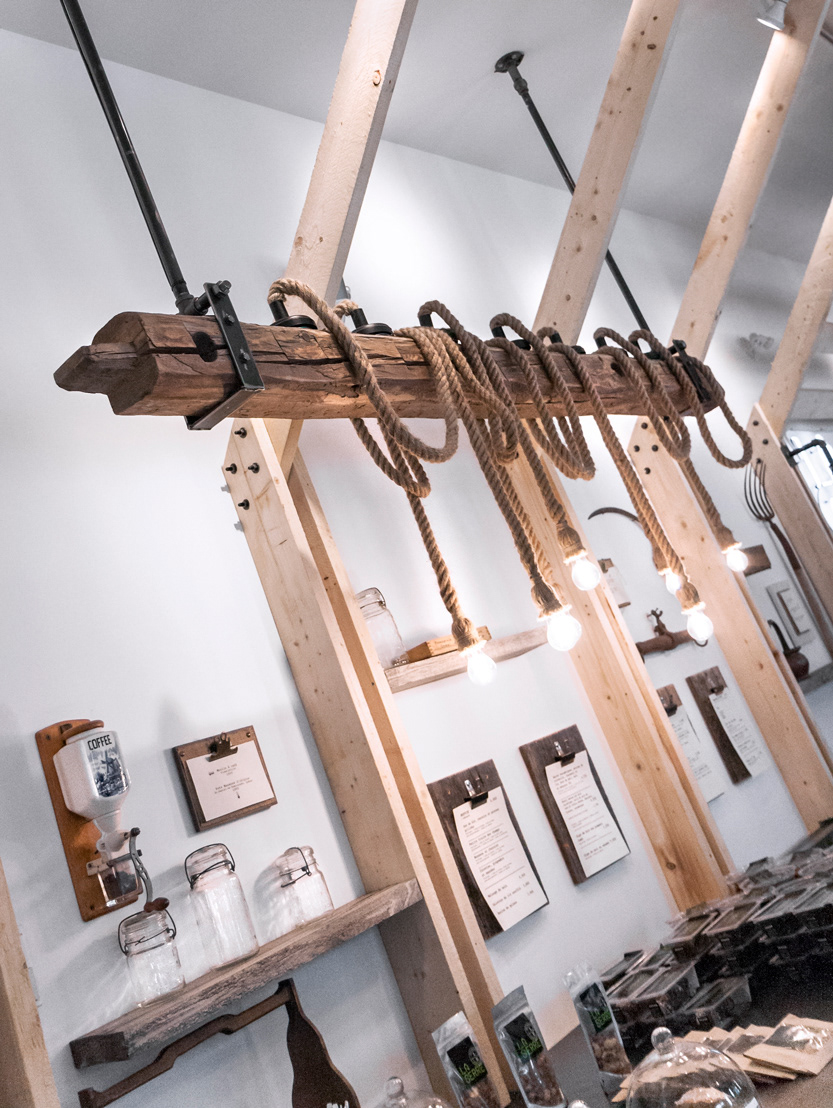 Ci-dessous: nous avons aussi fabriqué les pattes d'acier tubulaires pour les grands comptoirs lunch, avec ajout de grosses cordes antiques récupérées (ces cordes étaient utilisées sur les bateaux).
----------------------------------------------
Below: we also manufactured the tubular steel legs for large lunch counters, with the addition of antique ropes (these ropes were used on boats).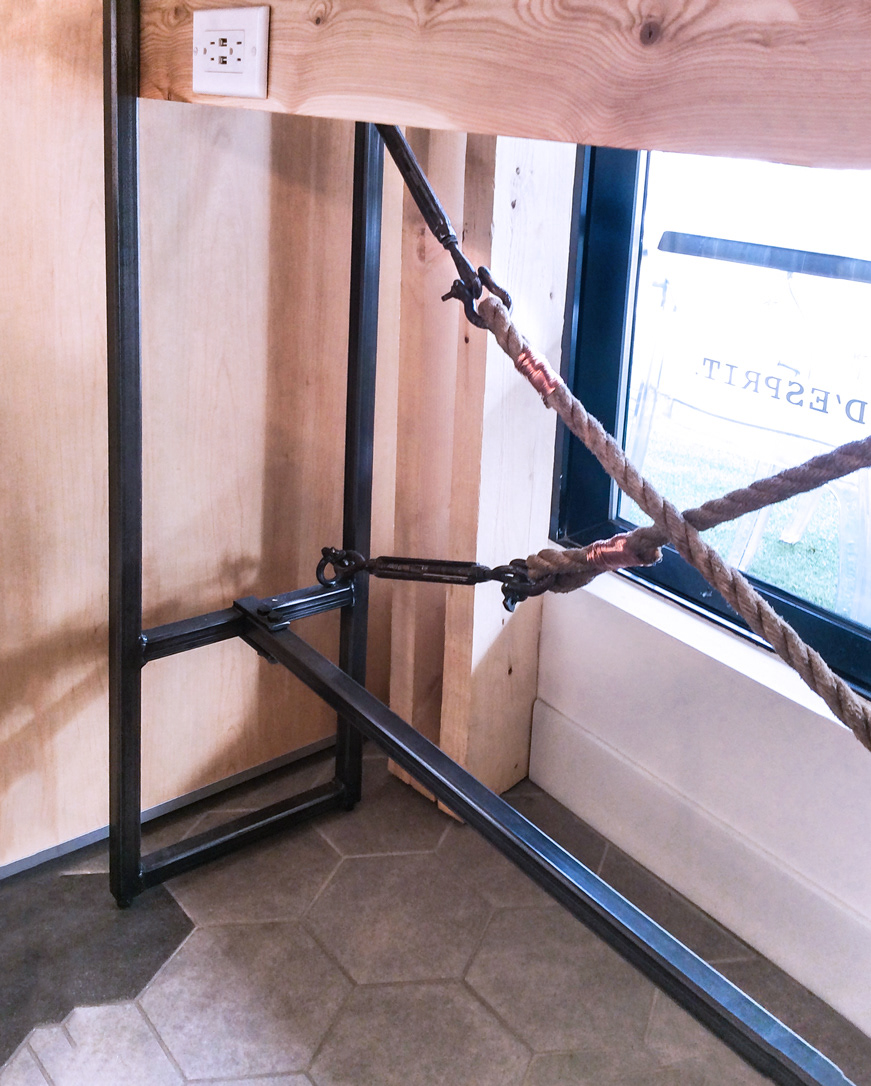 Et oui ! c'est bien une brouette suspendue au plafond en guise de luminaire :) 
----------------------------
Wheelbarrow suspended from the ceiling by way of lighting :)
Les roues en acier sous les comptoirs de bois étaient neuves, nous les avons antiquées.
---------------------------------
The steel wheels underneath the wooden counters were new, we work them to obtain a rust and old style.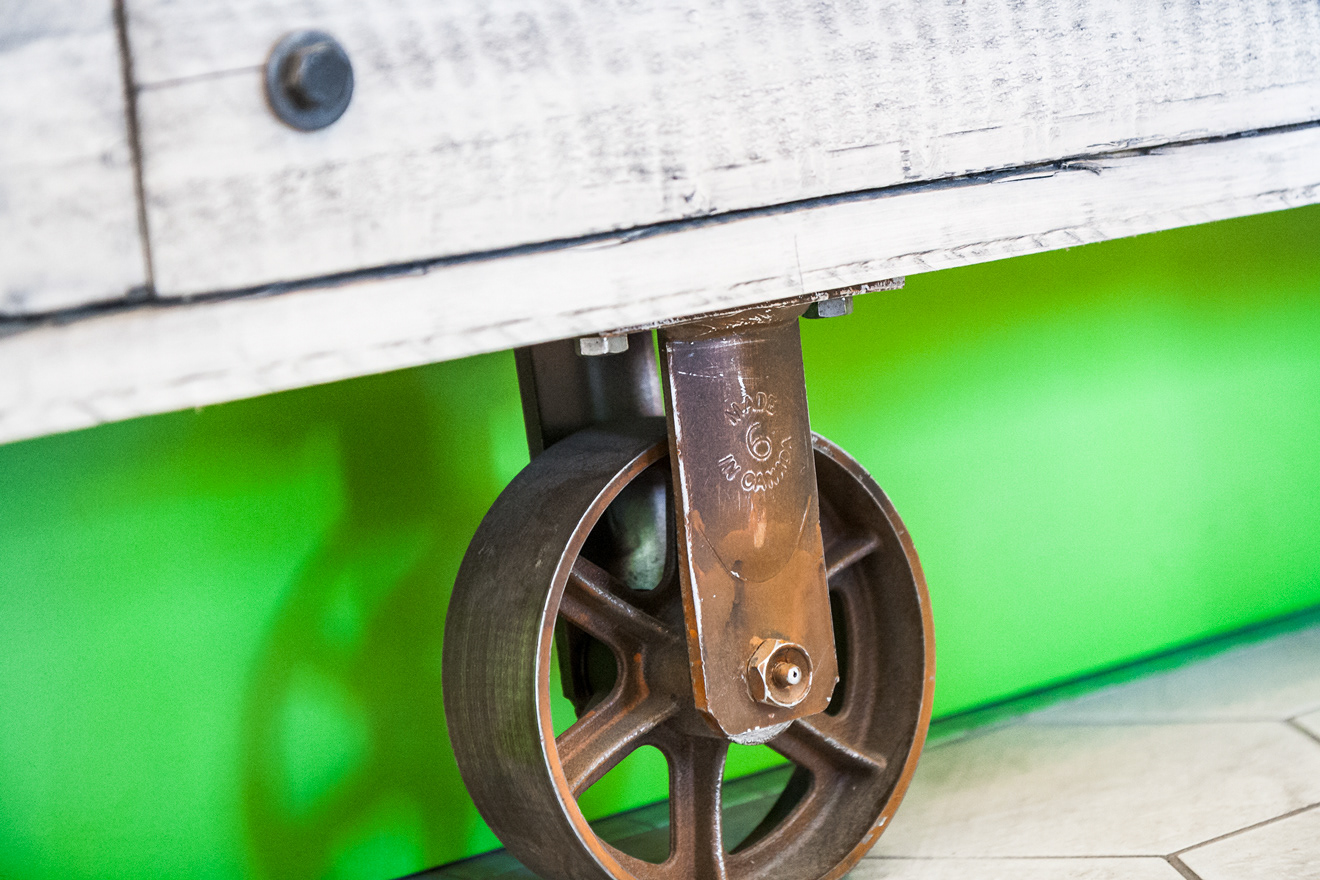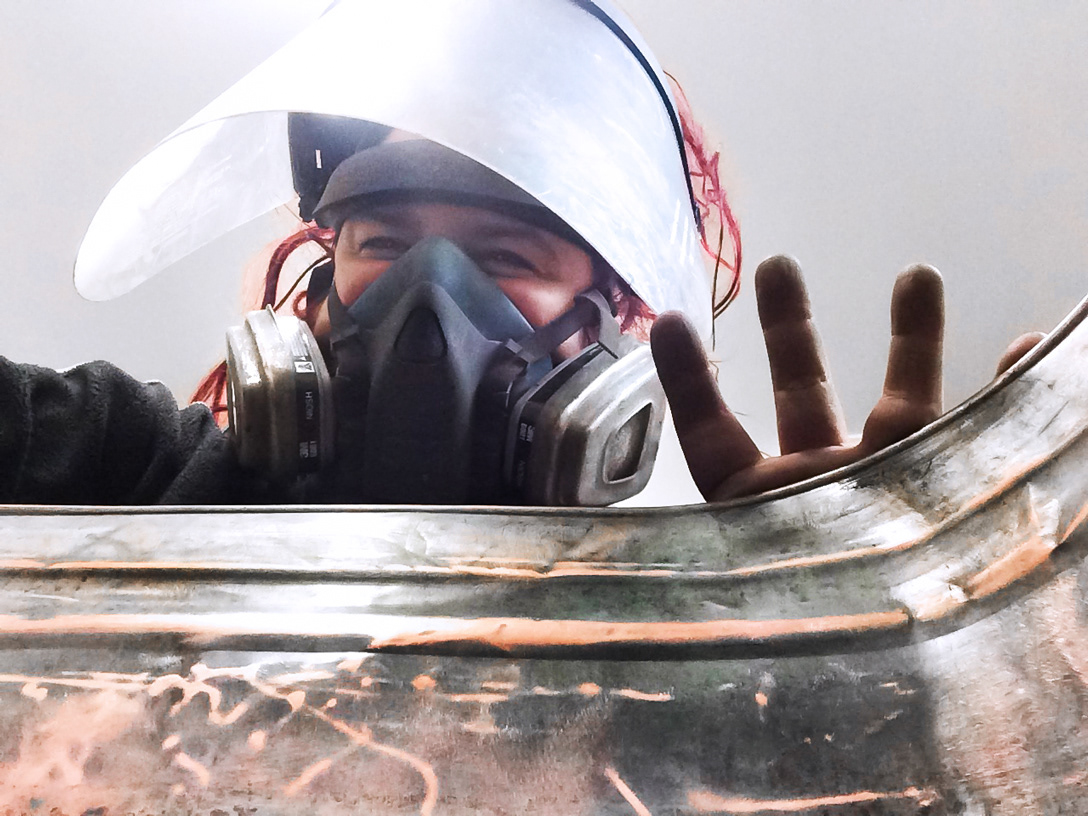 Thank's for watching !
Merci de votre visite !